The Carif 320 is a premium, semi-automatic bandsaw with left and right mitre and hydraulic operation of the vice and saw bow. It features a variable blade speed drive to cope with various materials
STANDARD FEATURES
Robust basement structure in steel powder painted with bright and smooth finishing
Bow structure in special aluminium alloy hardened
Patented Hydraulic system for a fine regulation of bow feed and cutting pressure
Speed variator Kw 2,2; 20÷100 m/1'
Electrical cabinet easy to move integrated with front display for: rapid setting of frame position, cutting speed regulation, piece counter
Mitre cutting -45°/+60°; bow rotation through conical bearings independent from the plans for piece support
Wide Plans for piece support for a comfortable and practical cutting area
Complete coolant equipment of 50 lt. tank with electro-pump 3ph. 0,1Kw inside the basement
Measuring device L=500 mm with height regulation
Large chips container for easy cleaning
Bimetal blade M42 mm 3025x27x0,9, cardboard box + pallet, service wrenches, instruction manual and spare parts list
View this bandsaw in the video
Check our other semi automatic bandsaws, bandsaw blades or our whole collection of bandsaws for sale
The 320 BSA VAR-E is the most appropriate machine when there are output roller tables because frame height is controlled by the front console
CUTTING CAPACITY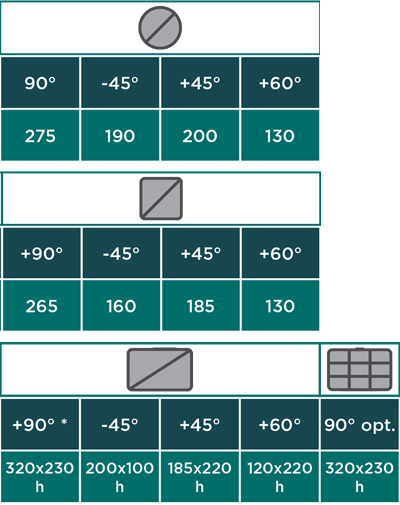 TECHNICAL FEATURES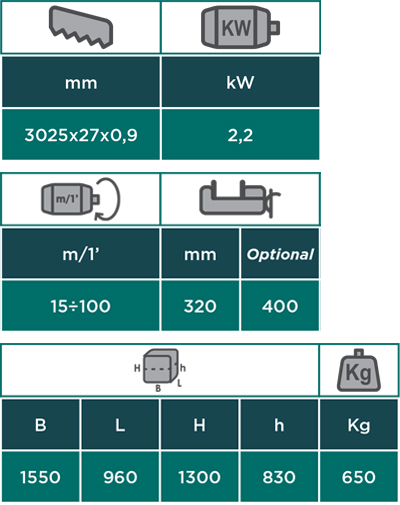 All CARIF models 260/320/450 are completely Hydraulic:

closure of the vice, bow feed and pressure. The Carif hydraulic patented system has been designed with 2 commands: BOW FEED and CUTTING PRESSURE.
Thanks to this system the blade regularly descends, with a constant auto-regulation for every material type, section and thickness.
Increased productivity: No operator during cutting cycle, Ø stops.
Always straight cut: Auto-regulation of blade-stress based on material hardness and section.
Longer blade life: Slows down the bow descent without straining the blade when worn out.
Easy to use: Practical, simple and ergonomic operations.
Fast cutting operations: Fully hydraulic cycle. More efficiency.

To see the exact shipping price for this product Add the product to cart. Then add your location and other details for the shop to calculate shipping costs to you.
Our two rates are €12.00 for shipments up to 30kg and the €60 for all shipments
over 30kg weight.
€12 is via DPD and the €60 is via pallet express.

You can also pick up an item for free from our Longford store.
All orders (stock items) for Standard delivery are normally despatched within one to two working days from clearance of payment.
We expect delivery to be within 2 to 5 working days thereafter.
Standard Delivery will be by Courier service for orders up to 30kg in weight.